Welcome to OzzIoT
Your Quick & Dirty IoT Platform
Just Register, create your channels and data fields, immediately collect your data & just download data whenever you want.
Caution! This site is currently under development!
So, don't think to use it in long term for now. Could be used for testing purposes for both you and me :) Please inform me for issues and your recommendations to the ozanaki(at)hotmail.com
OzzIoT is an IoT platform that can collect data from edge and embedded devices and publish data to the MQTT subscribers. User can easly monitor & download own data, add, remove, manage channels, fields, Api keys and MQTT devices by web site.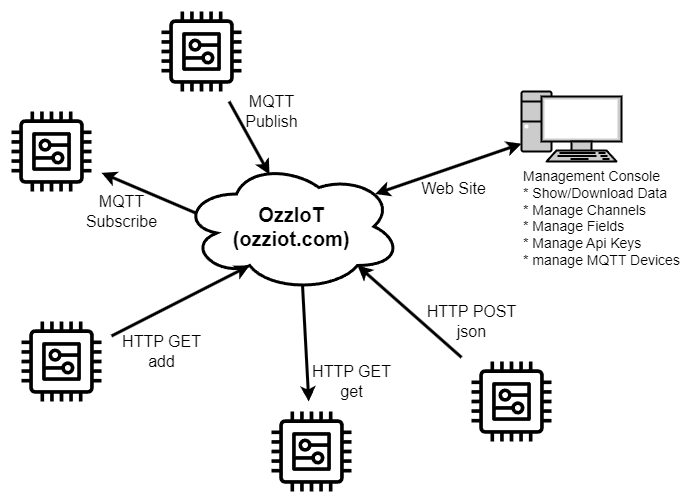 No price, no hassle, no spam, no scam, no support, no guarranty. Feel free to play with it :) If anything goes wrong, I'll fix it, promise! :) Enjoy.
How to Setup My Database
It is very simplistic!.
Login with your account.
Create Channel(s) for what you need. (Each Channel can hold multiple data fields)
Create Data Fields for your Channel(s).
Create Api Keys for channel(s) with some permissions.
Or, create MQTT device for channel(s) which you want
Start collecting data immediately from your devices.
How to Setup My Device(s)
HTTP Get, HTTP Post or MQTT is your choices
Api Key Management page give you sample links for whetever you want
Just replace the value holders with your real values
Post or Send your data to OzIoT
Or create your MQTT device(s) to collect data
How I Get My Data
Just one click ahead!
Open the Data page
Select the Channel you want to download its data
Just click the Download buttons which you want CSV, JSON, or XML.
Thats all.